Democratizing Access and Lower Barriers to Teaching and Learning Earth and Environmental Data Science
Diversity & Persistence in STEM: We make data skills more accessible to diverse audiences with the broader goal of increasing persistence in STEM of women and Black and Indigenous People of Color (BIPOC). 

We publish all learning materials online as open educational resources (OER) on the earthdatascience.org website which democratizes access to earth data science content. Anyone with internet access can use these materials to learn new skills.
We work with students and faculty at Tribal Colleges, Hispanic Serving Institutions, and other schools supporting groups historically underrepresented in STEM.

Blended Teaching & Learning: We teach using a blended online and in-person approach which allows anyone, in any location, to participate in our training. Blended classrooms also allow students to choose how they participate based on their learning preferences.
Evaluation and Assessment: We use evaluation and assessment to understand best practices for teaching and learning, to assess program effectiveness and to improve our program over time.
Open Source Software Tools for Education: We maintain and contribute to  tools that make learning and teaching earth data science easier.
Five Learning Goals for Earth Data Science: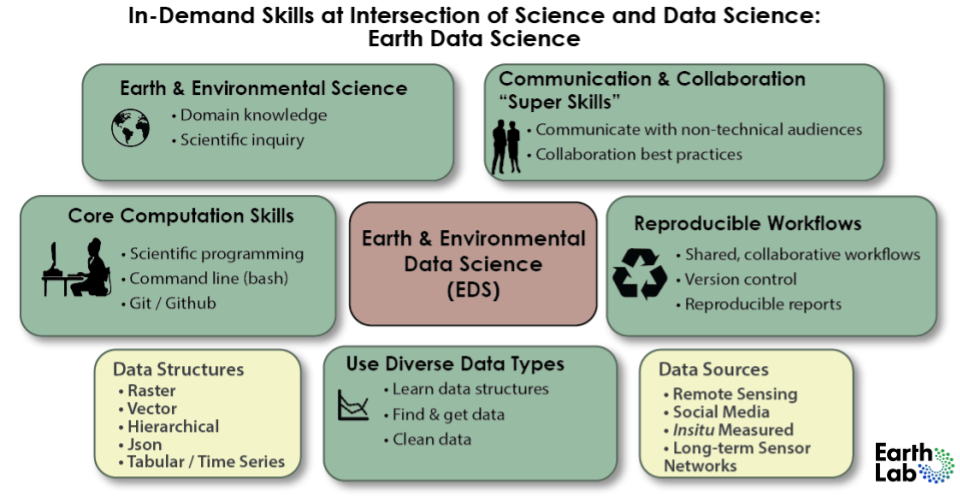 Technical earth data science skills
Use different types of data
Understanding the application of data science to science challenges
Interdisciplinary communication skills
Large team science collaboration skills
Featured Blogs